Our Christmas Holiday Gift to You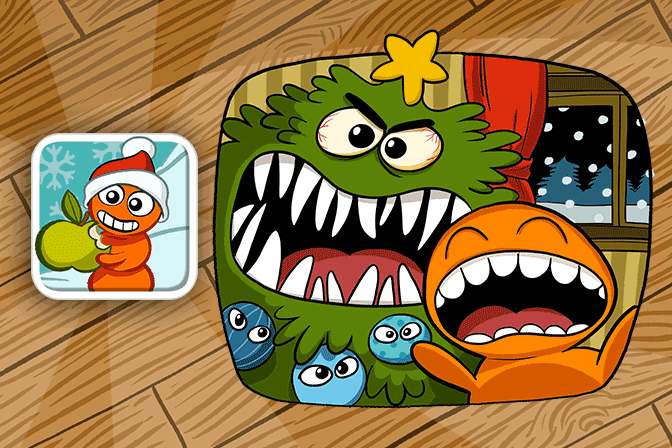 Doodle Grub Christmas Edition - Pixowl Offers its Holiday Gift To You
San Francisco, California - Pixowl Inc. announces Doodle Grub Christmas Edition, its FREE Christmas Gift to all players, scheduled for release right on time for winter holidays. Building on the success of Doodle Grub, praised by critics and gamers alike as "simply the best iPhone snake game", Doodle Grub Christmas Edition will be a stand-alone full version of the game, without ads! This version will feature two new winter based themes with tons of fearsome enemies and unexpected events!
Since its launch, Doodle Grub has topped the charts in more than thirty countries as a top ten arcade app and a #10 ranking in the US App Store, #5 spot in France and Germany etc. and more than 4 million downloads worldwide to date.
The game takes full advantage of the iPhone's accelerometer, allowing players to control the movements of the worm by simply tilting their device. The main goal is to collect apples to grow while avoiding several enemies that slope around the screen. This Christmas Edition keeps all the ingredients of success of its elder: Wireless and Bluetooth multiplayer mode supported via Game Center. Players can also challenge their friends and family to beat high scores and post them to their Facebook and Twitter profiles.
"This is our free christmas gift to all players! We want anyone to enjoy our remix of the traditional snake game, with this full version without any ads. Have fun and Merry Xmas!" - said Sebastien Borget, co-founder of Pixowl Inc.
Device requirements:
Compatible with iPhone, iPod touch and iPad
Requires iOS 3.1 or later
Size: 16 MB
Pricing and Availability:
Doodle Grub Christmas Edition is free and will be available before Christmas worldwide exclusively through the App Store in the Games category.
Doodle Grub
YouTube Video
Screenshot 1
Screenshot 2
Screenshot 3
App Icon