New Multiplayer Mode Added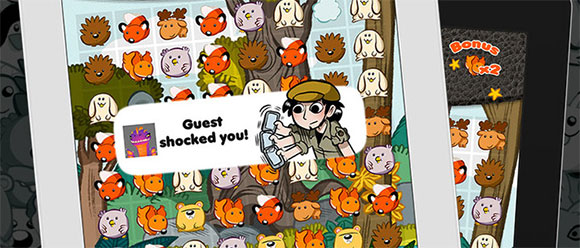 Pixowl's Popular Safari Party Game Adds New Multiplayer Mode
San Francisco, California - Pixowl Inc. is pleased to announce the addition of an exciting new multiplayer mode for Safari Party, its popular iOS puzzle game. The new mode allows up to eight players from across the globe to challenge each other at the same time, in a frantic, two-minute contest to see who can set the highest score while trying to disturb their opponents by sending to their screen devastating tornados.

The inclusion of Safari Party's new multiplayer mode is the result of a partnership between Pixowl and Nextpeer, a gaming service which specializes in the creation of real-time multiplayer tournaments for mobile games. "We're always looking for ways to enhance the user experience within our games", said Sebastien Borget, co-founder of Pixowl. "Adding a multiplayer mode to a family-friendly, fast-paced game like Safari Party was a logical next step. We're really looking forward to receiving feedback from all of our great fans!"
Since its launch, Safari Party has consistently charted amongst the top puzzle games, attaining a #1 ranking in the French App Store and securing a spot in the Top 25 of many other app stores worldwide. To date, the game has surpassed 400,000 downloads globally. Safari Party's fun and addictive game play makes it accessible to kids and parents, while at the same time presenting a formidable challenge that puzzle enthusiasts will enjoy. The game, in which players snap photos of exotic animals in a quest to earn the title of world's best photographer, combines arcade and puzzle elements with a Bejeweled-style playfield, resulting in a unique style of puzzler in which players gain total control over game play through the use of multiple strategies requiring both speed and wits.
Safari Party comes with Retina Display support and OpenFeint and Game Center integration with leader boards and achievements, as well as various power-ups for added appeal. Additionally, the five hand-drawn themes and thirty-five adorable characters created by famous French cartoonist Laurel make the game truly unique.
Device requirements
iPhone, iPod touch and iPad
Requires iOS 3.1 or later
22.6 MB
Pricing and availability
Safari Party 1.2 is Free and available worldwide exclusively through the App Store, in the Games category.
Safari Party 1.2
Purchase and Download
Press kit (zip)
Youtube video
Screenshot
App Icon