SHREK™ COMES TO THE SANDBOX EVOLUTION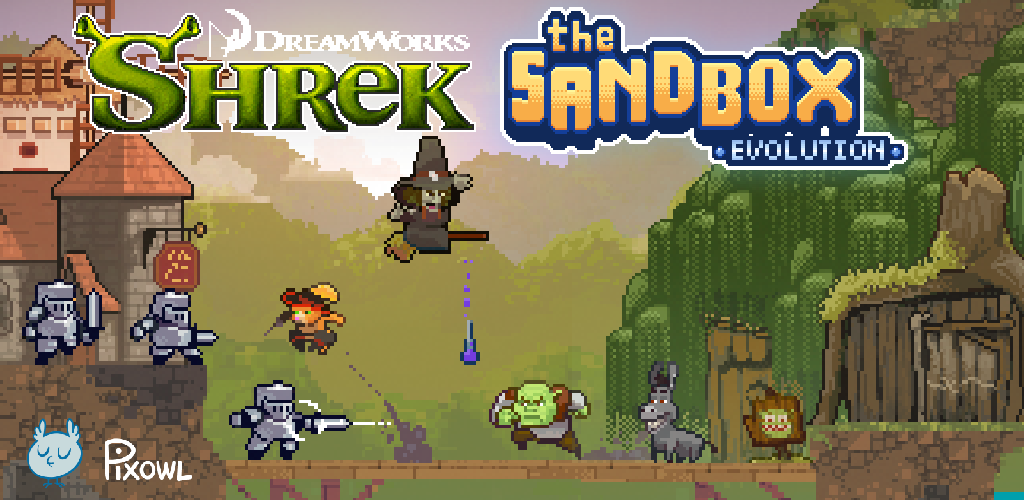 Pixowl teams with Universal Brand Development to bring DreamWorks Animation's Oscar-winning – Shrek™ – to their hit title THE SANDBOX EVOLUTION.
Players can add a Shrektastic touch to their pixel universes with new downloadable Shrek content, featuring six exclusive new elements in 2D sandbox pixel style, including favorites like Donkey, Gingy, Shrek's infamous swamp hut, and more! Shrek elements can be mixed and matched with all The Sandbox Evolution elements for Ogreriffic new game levels and challenges that can be shared in the online Gallery.
THE SANDBOX EVOLUTION, developed by Pixowl, is an acclaimed 2D pixel-art world builder mobile game, which has been downloaded over 25 million times. Fans and community have the opportunity to craft, build & destroy their very own pixel worlds, manipulate and discover over 300 elements (such as ambient life, traps, platforms, enemies, electronics, fantastic creatures, medieval armies, decorations, etc.) and interactions, and add controllable heroes.
THE SANDBOX EVOLUTION with Shrek is available for download here. To know more about THE SANDBOX EVOLUTION, players visit the website here and join the growing community on