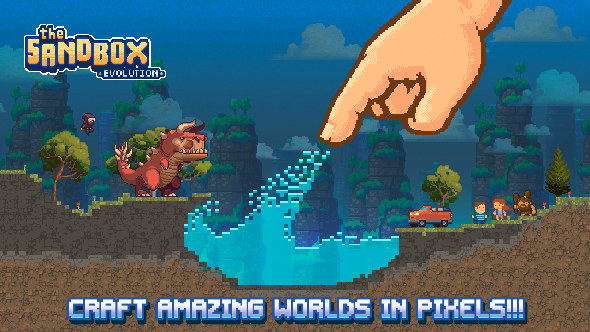 PIXOWL / The Sandbox Evolution
The Sandbox Evolution is the sequel to the 2D pixel-art world builder game The Sandbox, which was downloaded on iOS, Android and PC over 16M times!
Use your godly powers to craft amazing pixel worlds or destroy the universe! Welcome to The Sandbox Evolution, the #1 pixel art world creation game. Play with physics, over 170 elements and controllable heroes. Make your own games or levels, and then share your creations online. There are no limits to your creativity and imagination!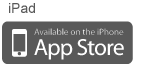 Celebrating 5 years of The Sandbox!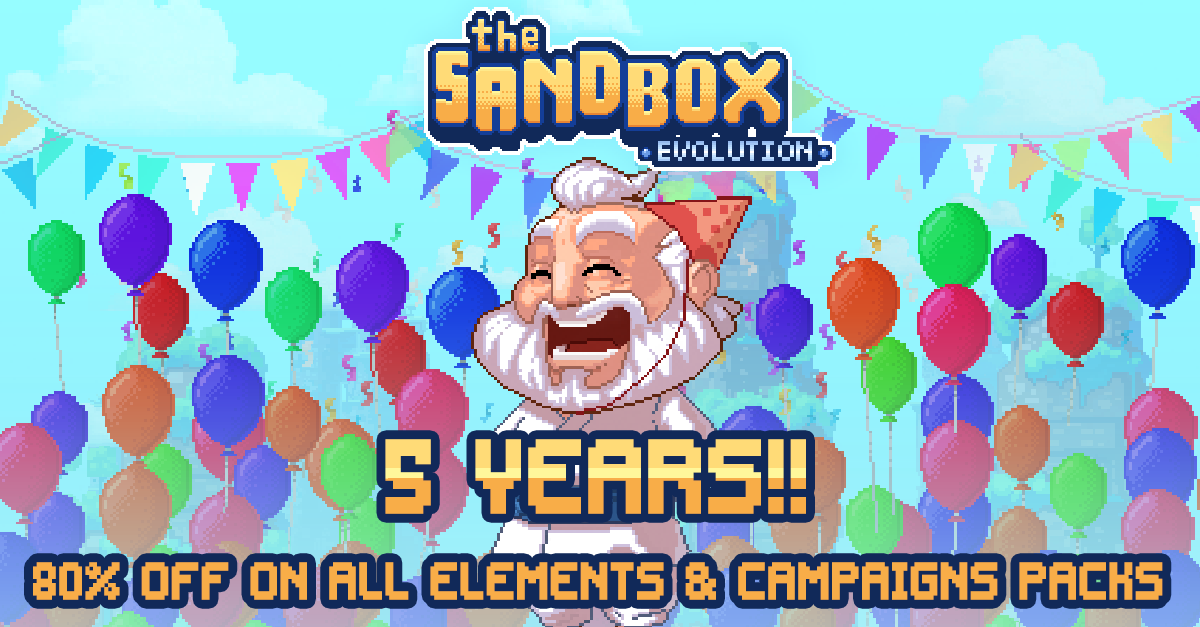 The whole team at Pixowl is very excited to celebrate the fifth anniversary of our popular pixel world-building franchise, THE SANDBOX, with a major announcement today! Enjoy a limited time discount of 80% OFF The Sandbox Evolution for iOS and Android devices and PC from May 15th–30th
The unlocked game is available for just $0.99 on mobile and $1.99 on PC.

Drive 6 new Vehicles: Tank, Helicopter, Mecha and more!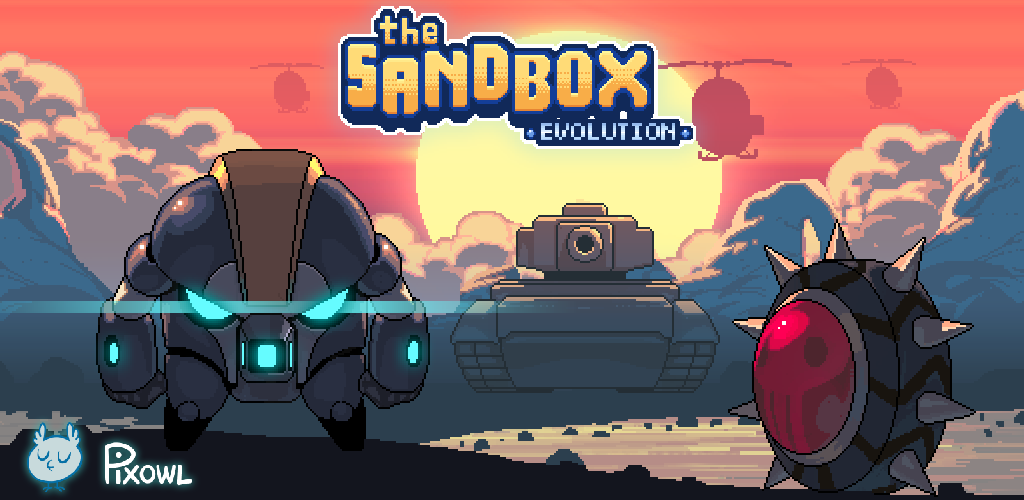 DRIVERS, START YOUR ENGINES! Drive 6 new Vehicles with your favorite heroes behind the wheel.
Let's go for a spin in a Tank, Helicopter, BattleMech, Submarine, Reaptire or the Bathysphere
These new vehicles will expand the gameplay for every character you use with them!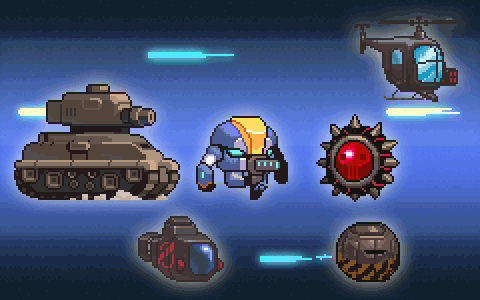 6 NEW VEHICLES: A NEW TYPE OF CONTROLLABLE ENTITY
+ Tank: This mighty war machine can shoot explosive shells to obliterate your enemies.
+ BattleMech: A powerful, rocket-propelled humanoid vehicle that can hover and blast electricity to kill enemies and electrify Metal wires.
+ Attack Helicopter: Armed with a machine gun and missiles, this small helicopter is a force of destruction!
+ Submarine: This vehicle can submerge and shoot torpedoes to deal with any foes you encounter underwater.
+ Reaptire: The Reaptire is a big, spiked wheel of destruction turned into a vehicle. It can climb any surface by moving towards it and explodes spectacularly on death!
+ Hazard Bathysphere: Less mobile than the Submarine, but resistant to Acid and Lava, this Bathysphere is used in hazardous environments.

Shrektastic Update! Play with Shrek and Puss'In Boots

Download the Update now! The Sandbox Evolution goes green. Add a Shrektastic touch to your pixel universes with the official new Shrek DLC featuring 19 exclusive new elements. 
- 6 OF YOUR FAVORITE HEROES: Shrek, Puss in Boots, Shrek's Ogre Babies, Donkey, Gingerbread Men, Dronkey
- 3 ENEMIES: Witch, Duloc Knight, Slug
- 10 DECORATIVE ELEMENTS: Shrek's House, Shrek's Outhouse, Duloc Castle, Duloc House, Farquaad Mask, GingerBread House, Mill, Poison Apple Tavern, Swamp Tree, Big Swamp Tree

SHREK™ COMES TO THE SANDBOX EVOLUTION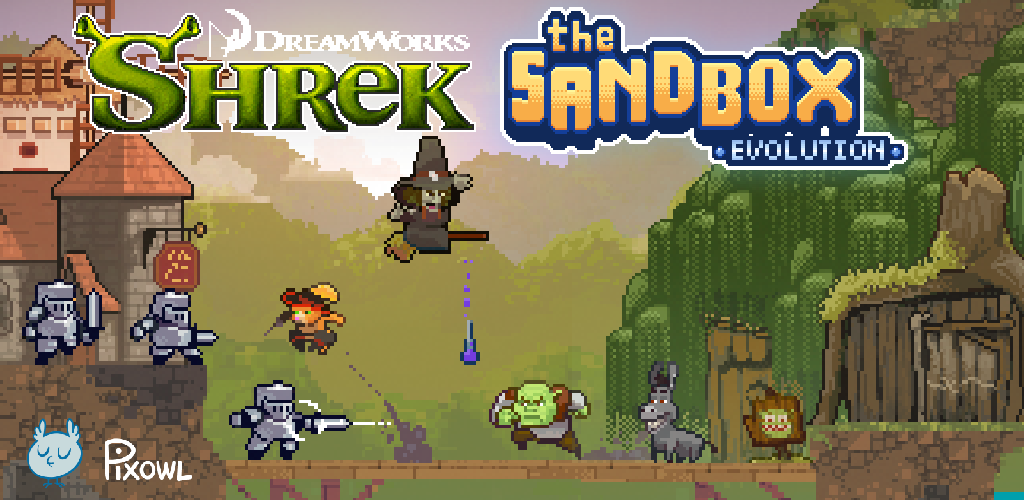 Pixowl teams with Universal Brand Development to bring DreamWorks Animation's Oscar-winning – Shrek™ – to their hit title THE SANDBOX EVOLUTION.
Players can add a Shrektastic touch to their pixel universes with new downloadable Shrek content, featuring six exclusive new elements in 2D sandbox pixel style, including favorites like Donkey, Gingy, Shrek's infamous swamp hut, and more! Shrek elements can be mixed and matched with all The Sandbox Evolution elements for Ogreriffic new game levels and challenges that can be shared in the online Gallery.
THE SANDBOX EVOLUTION, developed by Pixowl, is an acclaimed 2D pixel-art world builder mobile game, which has been downloaded over 25 million times. Fans and community have the opportunity to craft, build & destroy their very own pixel worlds, manipulate and discover over 300 elements (such as ambient life, traps, platforms, enemies, electronics, fantastic creatures, medieval armies, decorations, etc.) and interactions, and add controllable heroes.
THE SANDBOX EVOLUTION with Shrek is available for download here. To know more about THE SANDBOX EVOLUTION, players visit the website here and join the growing community on

Turn your worlds into a Zombie Apocalypse!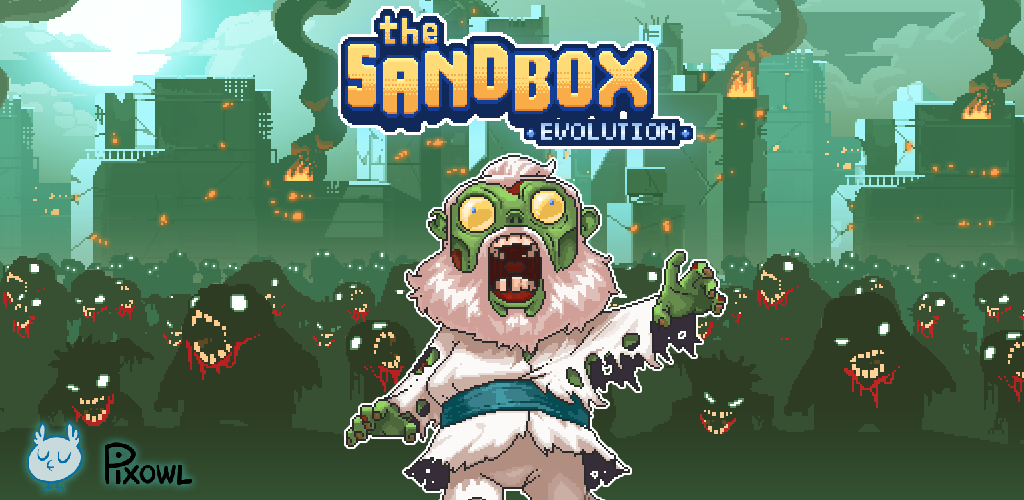 Download the new update here! Arnold is back on a mission – to kill Zombies and help protect survivors to stay alive with the army! How long will you survive the invasion? Can you cure this world or will you let the zombies spread out the plague?
- 5 zombie-themed new elements: Zombie, Stalker Zombie, Bloated Zombie. Zombie Virus, Antidote Particle.
- 4 new Weapons for Arnold (controllable hero): Handgun, Shotgun, Antidote Gun and the Rocket Launcher
- 8 elements to join forces with the Army: Rescue Truck, Shotgun Soldier, Sniper Soldier, Hazmat Suit, Medical Tent, Missile Turret, Land Mine, Antidote Land Mine
- 13 decorative elements to represent the Zombie Apocalypse in your levels more accurately: Broken Car, Broken Police Car, Broken Ambulance, Wrecked Tank, Wrecked Helicopter, Wrecked Car 1, Wrecked Car 2, Car House, Gas Station, Makeshift Blockade, Command Center, Hazard Sign, Lamp Post.