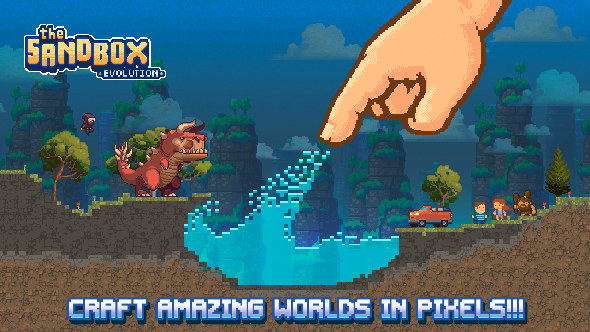 PIXOWL / The Sandbox Evolution
The Sandbox Evolution is the sequel to the 2D pixel-art world builder game The Sandbox, which was downloaded on iOS, Android and PC over 16M times!
Use your godly powers to craft amazing pixel worlds or destroy the universe! Welcome to The Sandbox Evolution, the #1 pixel art world creation game. Play with physics, over 170 elements and controllable heroes. Make your own games or levels, and then share your creations online. There are no limits to your creativity and imagination!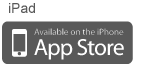 Play Giant Monsters & Destroy Cities!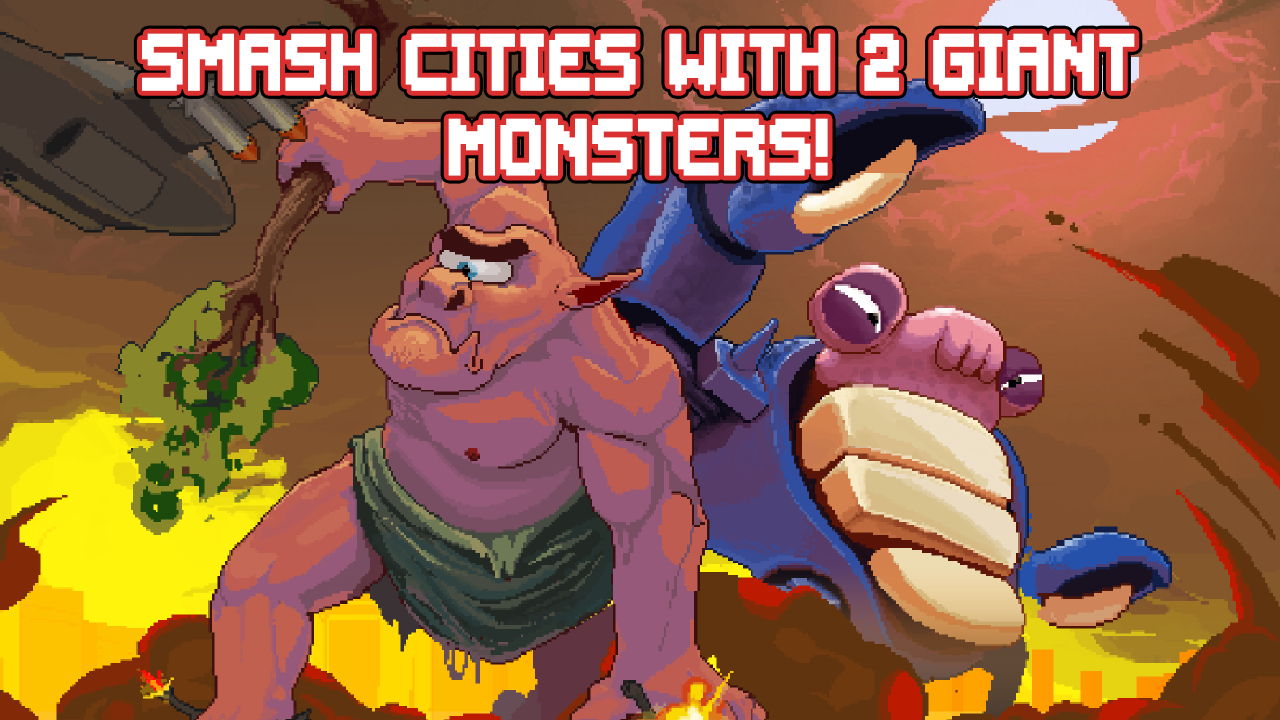 Download here the new update to The Sandbox Evolution = Monster Frenzy Update! Smash whole cities and fight the army with giant controllable Monsters Creatures!
Destroy all buildings in a level to win!!
+ 2 new Giant Monsters with immense strength:
- The Cyclops and his special Mystic Eyeblast attack
- The Carcinos and his special Crab Typhoon attack
+ 2 Dinosaurs as Controllable Characters: The Spinosaurus and the T-Rex!
+ 6 Building Segments: make your own skyscrapers by stacking these buildings on top of each other.
Each has a different power: Rifle Soldier (Attack), Restaurant (Heal), Bouncy (Jump) and Explosive (Explode)
+ 5 new Military Troops and an indestructible Base that spawns them: Fighter Jets, Rifle Soldiers, Homing Rocket Soldiers, Tanks and Helicopters!

It's PIXEL ART COLORING time!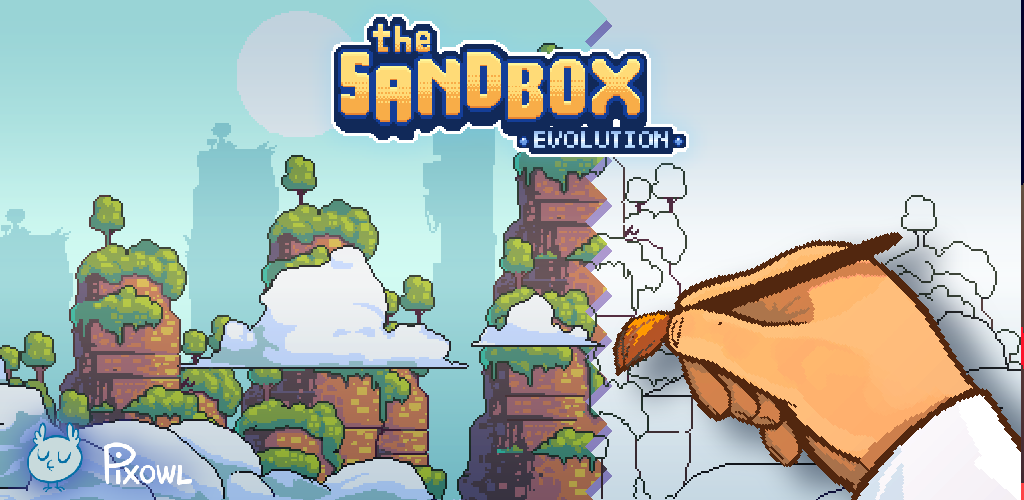 It's PIXEL ART COLORING TIME with this new update! => Download it Now!
Get Ready to Color Pixel Art! Start by choosing from a wide range of pixel art drawings made by the community of Sandboxers. Then it's your turn to make & share your drawings online for others to colorify
Fancy a smart way to pass time? Enjoy a zen & relaxing activity and practise your drawing skills at any age!
New Features:
- Mini-palette that gives you quick access to your currently selected Palette
- Unlimited Zoom to be able to show your creations as they were meant to be seen.
- Image Filters that allow you to make quick transformations to your whole drawing.
- A link to access the original LineArt level in each "Colored" level.

Happy New Year 2018!

Happy New Year Everyone! #2018 We hope you had a great time with friends & family!
Keep the Fun in 2018 by playing our games: The Sandbox Evolution & Peanuts: Snoopy's Town Tale

Make your own Miner Game!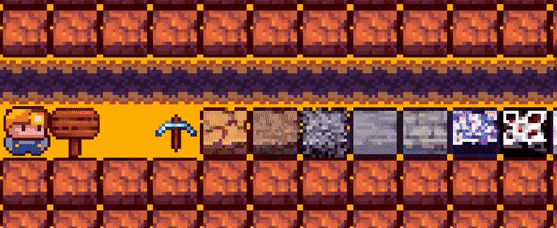 Download the latest update of The Sandbox Evolution => http://bit.ly/TSBEvolution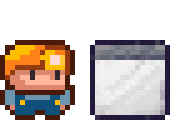 CREATE your own Mining Game! Design the mine layout, add traps and precious ores, then place the Exit. Try it yourself then when ready share it to the Online Gallery!
PLAY mining levels made by other players! Control the Miner Hero by swiping, upgrade your Pickaxe and win as many levels as you can to rank in the Leaderboards!
Discover the new Miner elements:
- 15 different rocks to break
- 4 Pickaxes upgrades available by combining 3 Ores collected in the mine (Iron, Gold and Diamond)
- 4 special Hazards & Traps
- Many more elements: Miner Sign, Colored Switches, Arrow Traps and 6 colored Doors
- 3 Xmas Elements: The Grouch, the Xmas Bell Tower and the Xmas Gift.

The Sandbox Evolution goes FREE forever!


We are excited to announce that the game will become available forever for free (with no ads or in-app purchases) for PC via the Steam platform exclusively, as it celebrates its fifth year of Sandbox unlimited creativity. Play The Sandbox on PC
You can read the full press release below:
SAN FRANCISCO, CA, December 13th, 2017 – Pixowl today announced that its hit game The Sandbox Evolution, will become available forever for free (with no ads or in-app purchases) for PC via the Steam platform exclusively, as it celebrates its fifth year of Sandbox unlimited creativity. The title is the sequel of the award-winning 2D pixel-art world builder game The Sandbox, which has been downloaded on iOS, Android and PC over 35 million times.
Launched in 2016 on iOS & Android mobile platforms first, then on PC Steam in November 2016, The Sandbox Evolution empowers players to craft worlds or destroy universes and also lets players create their very own games. Earlier in 2016, Pixowl announced a partnership with Bandai Namco to bring classic game characters such as PAC-MAN into the game game, as well as a partnership with Dreamworks for including Shrek characters into the game.
The Sandbox Evolution has enjoyed tremendous success, with 12.5 million players having created over 57 million unique worlds. Players spend over 15 minutes per day creating, and over two million worlds have been shared with other players. Pixowl has rewarded players with 85 game updates, about one every three weeks, giving players a constant stream of new content to play and explore. There are more than 10 game modes, including physics games, platform games, PAC-MAN mazes, action games, ninja games, electronics, music making, and more.
"We believe this move will benefit the community of Makers while allowing mobile players and new players to expand their creativity on PC, bringing even more creators and great content to players," said Arthur Madrid, CEO of Pixowl. "We thank all creators around the world who have supported the game until today and are thrilled to accelerate our growth towards our company goal of building a community of 100 million creators by 2020."
Featuring a modern pixel art graphic style, The Sandbox Evolution gives players even more freedom and creativity through improved physics and side-scrolling worlds that are ten times larger than its predecessor. Players pick from a variety of characters and heroes to build worlds and choose from over 300 elements and design with various entities, game-making blocks, platforms, enemies, portals and characters, pixel art drawing colors, and more. Once a new world has been created, players can share them in the online gallery or create a retro-style platformer level with a brand new, intuitive game maker.
The Sandbox Evolution was originally available on Steam for $9.99 USD or equivalent currency. Users who previously purchased the game will keep enjoying regular updates, while new adopters will be given access to the whole game without limitations.
The Sandbox Evolution is available for iOS, Android and PC via Steam
* iPhone/iPad: https://itunes.apple.com/app/id944393180
* Android: https://play.google.com/store/apps/details?id=com.pixowl.tsb2
* PC Steam: http://steamcommunity.com/sharedfiles/filedetails/?id=664842182
Players can join the growing community on Facebook http://facebook.com/thesandboxgame, Twitter, YouTube and on the Forums.
View the official trailer here: https://youtu.be/wwNfv3PxADY
About Pixowl
Founded in 2011 and headquartered in San Francisco, CA, with development studios in Buenos Aires, Argentina, Pixowl, Inc. is a mobile game development company. Pixowl's experienced international team of dynamic innovators strives to meet and exceed the desires of mobile game players worldwide by blending exciting gameplay, comic book art and character-driven storylines. With the success of its iOS games, The Sandbox, Peanuts: Snoopy's Town Tale & Garfield: Survival of the Fattest, Pixowl has already established itself as a leader in casual mobile games and IP-based games.
For more information about Pixowl, please visit www.pixowl.com or friend and follow them on Facebook and Twitter.