Grub is featured in "Spooky Halloween Games"


Download it right now on your iPhone or iPad for FREE https://itunes.apple.com/us/app/grub/id739320968and see how long you can survive the voracious creatures!

Grub is featured in Best New Game Updates


Try the newest features, such as the Survival Mode and additional Leaderboards, grab now the new update of Grub: http://appstore.com/grub

Survival Mode added in new update of Grub!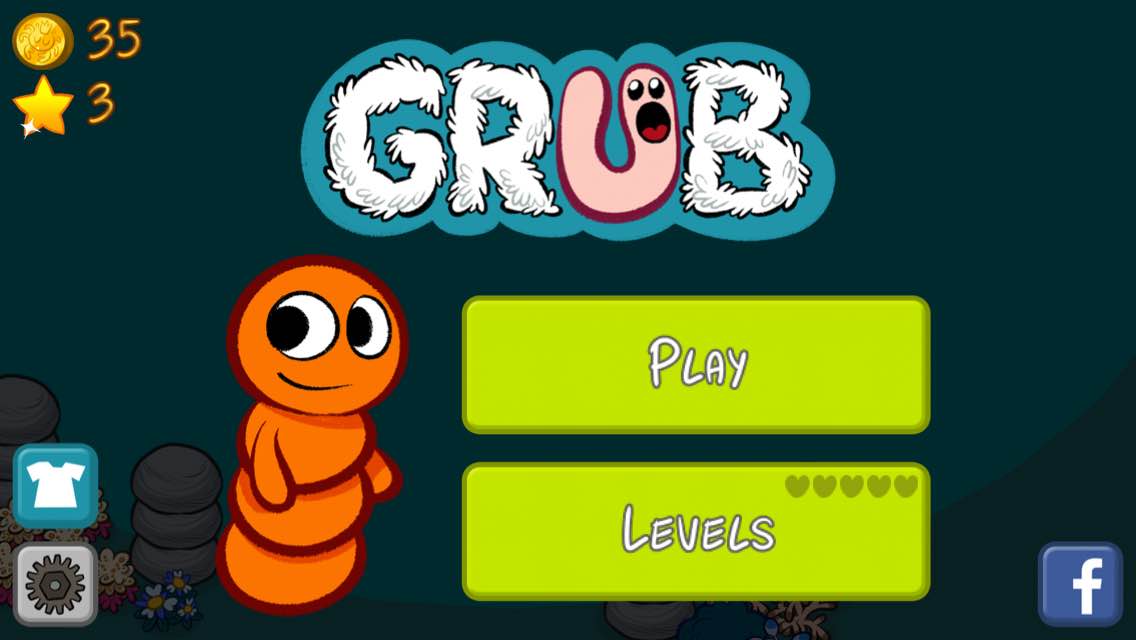 A new update of Grub is now live on the App Store, download it now at https://itunes.apple.com/us/app/grub/id739320968
What is new in this update?
New Features
- New Survival Mode! (infinite lives) Compete with your friends!!!
- New Power-Up to electrocute several enemies at once!
- New Leaderboards with Game Center
- 4 new Levels, with more challenges to accomplish — can you beat those?
- New App Icon
Optimisations
- Updated several Levels for smoother gameplay
- Shorter Tutorial, learn faster how to master the game!
- Better tuning for Power Ups apparition
- Improved balance of difficulty
- Music tuning
Bugs Fixes
- No more freezes during Tutorial
- Many bugs & crashes fixes! Thanks for reporting them to us!

Grub is featured on the App Store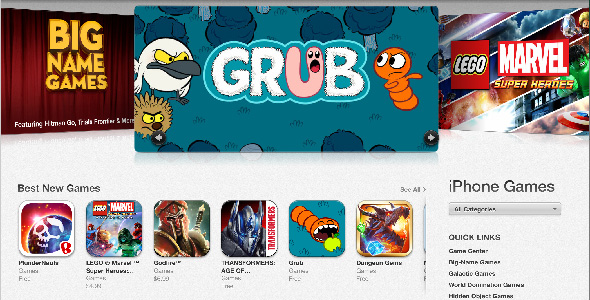 If you have an iPhone or an iPad, you should download it right away! http://appstore.com/grub
Tell us what you think about it please! We're already working on the first update, we would really appreciate to include some of your ideas!
Oh, about Android, don't worry, it's coming soon! (in about 2 months I would say, I'll keep you updated!)
Thanks for your support!

Snake Action is Back! Grub Now Available


Snake Action is Back! "Grub" combines the best of snake gameplay with smooth accelerometer controls and a series of challenging levels
Download Now (FREE): https://itunes.apple.com/app/grub/id739320968
GAME FEATURES
• 15 levels offering various challenges such as reaching certain scores, eating enough fruit, killing enemies, reaching a given size or scoring a big combo
• Unique Survival Mode across two different levels
• 3 Power Ups: Use Spikes to kill the varied Hedgehogs and Wolves; Freeze the with the power of Ice and use the 
Magnet to collect Apples and Coins
• Ability to upgrade Grub capabilities up to 7x each Power Up for maximum effect
• Intuitive and responsive tilt controls, with two choices for device position: flat or inclined
• GameCenter Support: Share high scores and compete for top spots on the leaderboards
• Social Media Integration (Twitter & Facebook): See friends on the map and compare progression
• More than 30 achievements including surpriseful challenges, like "Globe Trotter" (walking over 40,000 km), Colossal 
Grub (sizing up) or Serial Killer (killing over 1,000 enemies)
• Video Replays and Comic Strips that unlock as players progress through the levels